About the Director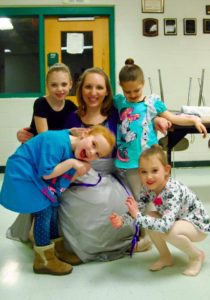 Kat Ward is an alumnus of the University of Akron where she received a BA in Dance and was a member of the UA Dance Company, performing throughout Ohio on stage and on screen. While completing her senior year of college, she also became certified in Pilates and has taught classes in OH, WV, and PA at studios, fairs, and festivals as well as working with some professional athletes.
Following graduation, Kat served as the Assistant Director of the Augusta Youth Ballet while teaching dance, gymnastics, cheerleading, and Pilates at The Dance Factory. In 2011, Kat took over ownership of RNM, restructuring the dance curriculum and forming a non-profit company for the more serious students, Turning Pointe Dance Company. Kat has choreographed multiple productions for RNM and TPDC as well as local theatres such as Cinderella, Sleeping Beauty, Clara's Candyland Adventure, Swan Lake, Alice in Wonderland, High School Musical, and Spamalot.
Kat currently serves as Artistic Director of Turning Pointe Dance Company, President of Dance West Virginia, and is on the Board of Directors for Berkeley Art Council's Dance Works Festival.